I'm sure I won't post that often for long, but hey, it's fun while it lasts!
I'm reposting the watercolour (sort of) sketch I did for
sketching_daily
today. Another one of the view from our window, as the weather has again turned back to windy, if not that cold. Not that I'm complaining, it's the kind of wind that brings some rain and we need it.
Well, the weather was just perfect to try myself at cloud painting. I already did
a few exercises in painting skies
two years ago when I painted on location regularly, and it's really something I feel I need to improve. Not painting for a year didn't help either, and what I managed to achieve on the summer 2006 seems very far away.
When I begin to paint clouds, I imagine those wonderfully mastered wet watercolours where clouds melt into clouds and the texture of the paper or the brush strokes are used to convey cloud shapes. Of course, that's not really what I managed to do! I think I should exercise separately painting moving objects like clouds and perfecting wet techniques - maybe, for the latter, by painting from photographies.
Well, here's today's result.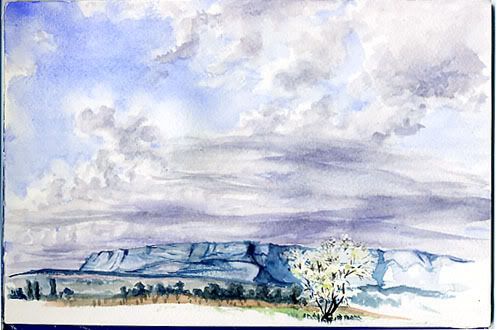 I should also remember to leave some blank space around the edge... I was getting better at it, but hey, that's why it's a sketch! Trying myself at something, not really thinking of the rest :)
And so that I don't spam too much, I'm also reposting here an OLD HP painting that I did for a Christmas exchange,
smutty_claus
, I think... in December 2007. I didn't post much afterwards and forgot to repost it here, and well, I like to have all my art in the same place... There's another drawing I did for this exchange, but there's, OMG, a BREAST! in it, so it'll go in its own, gasp, adult post so that this one retains its G rating :D
characters
: Severus Snape, Eileen Prince Snape
rating
: G
Here's the teaser. Actually, it's an enlarged part of the painting... You've probably already seen it long ago!
(
One day, I'll be a great potion master too
Collapse
)
You know, I'd have loved it if it had turned out that the great love Snape was supposed to have felt had been for his mother. After all, there are more than one kind of love. And Snape loving his mother deeply, maybe still doing so, would have felt better to me than some unrequited teenager crush. Poor Snape.